Circular Foam Cutting Machine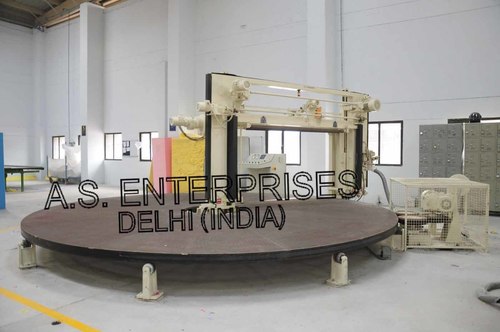 Circular Foam Cutting Machine
Price And Quantity
Product Specifications
Product Description
Leveraging on our state-of-the-art infrastructural unit, we have been a proud manufacturer of Circular Foam Cutting Machine for our widely scattered clients. It is precisely for providing an accurate and reliable means of cutting flexible PU foam blocks into required thickness ranging from mattresses (100 to 200 mm) to thin sheets as low as 1.5 mm. Circular Foam Cutting Machine is fully automatic and is available in two sizes CCM56 & CCM66. The cutting executed by an endless band saw blade running on four dynamically balanced wheels provide a smooth and finished cut.
Standard Equipment:
Rotary slitting table with wooden tabletop having friction surface.
Circumference friction drive (max. Speed 100m/min) having soft movement on table-start and -stop.
Infinitely variable table speed control : 0 to 5 rpm using a variable frequency drive.
Slitting section with four balanced blade-wheels.
Motorized slitting section. lift/lower mechanism.
Tensioned PTFE coated blade guide.
Electric blade drive motor.
Single-edge ground band-knife with manual tensioning system Band-knife width: 30 mm.
Electric grinding apparatus with two adjustable cup-stones. (Manual dresser).
Grinding dust exhaust.
Vacuum system in slitting area.
Electric adjustment of slitting angle: 0 to 5 degrees.
Control panel with PLC & colour touch screen.
Pre-selection of slitting thickness by touch screen from 1.5 mm to 200 mm.
Pre-selection of number of table-revolutions through touch screen for 1-999.
Technical Specifications Of Circular Foam Cutting Machine:
MODEL

LOADING CAPACITY

SPACE

OUTER TABLE DIAMETER

INNER DIAMETER

6 ft. x 3ft.

2m x 1m

2m x 1.5m

CCM40-B

4

3

-

5m x 5m

4m

1 m

CCM56-B

8

5

4

7m x 7m

5.6m

1 m

CCM66-B

11

7

5

7m x 7m

6.6m

2 m